Now,let's newselectionz.com read below post see to know more:South Korean Food: Top 10 of the Best Tasting Dishes
In recent years South Korea has become better known for its technology than its food. However, thanks to delicacies like kimchi, which has become a global sensation, things are beginning to change. Here are is a list of South Korean food you have to try.
South Korean Food: Top 10 of the Best Tasting Dishes
Hoeddeok (sweet syrupy pancakes)
Known as a sweeter version of the Western pancake, hoeddeok, or sometimes spelled as hotteok, is a popular Korean street food, especially during the winter season. It is essentially flat, circular dough that is filled with a mixture of cinnamon, honey, brown sugar, and small pieces of peanut and cooked on a griddle. The delicacy has crunchy exterior and soft interior as well as an irresistible flavor.
Bulgogi (marinated beef barbecue)
A juicy, savory dish of grilled marinated beef, bulgogi is one of the most popular Korean meat dishes throughout the world, and was ranked as the 23rd most delicious food in the world according to CNN Travel's reader's poll in 2011. It is often grilled with garlic and sliced onions to add flavor to the meat. The meat is usually wrapped in lettuce and it is also traditionally eaten with ssamjang (a thick, red spicy paste).
Samgyeopsal (pork strips)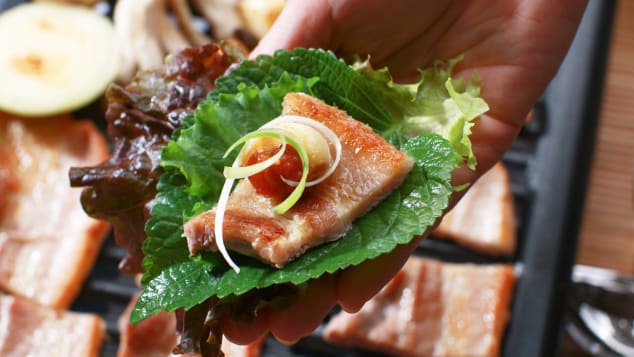 One of the most popular Korean dishes in South Korea, samgyeopsal consists of grilled slices of pork belly meat that are not marinated or seasoned. They are commonly dipped in seasoning made of salt and pepper mixed in sesame seed oil, and then wrapped in lettuce along with grilled slices of garlic, grilled slices of onion, shredded green onions, and kimchi. It is one of the most common dishes found in any Korean restaurant throughout the world.
Kimchi (fermented vegetables)
One of the oldest and probably the most essential dishes in Korean cuisine, kimchi is a spicy and sour dish made up of fermented vegetables. It is prepared with various kinds of ingredients, but the most common main ingredient is cabbage. Kimchi is popular among foreigners for its unique flavor, as well as its high nutritional value, fiber content and low calorie content. However, for Koreans, it is most popular due to its significant cultural value. Without kimchi, dinner is considered incomplete.
Tteokbokki (떡볶이)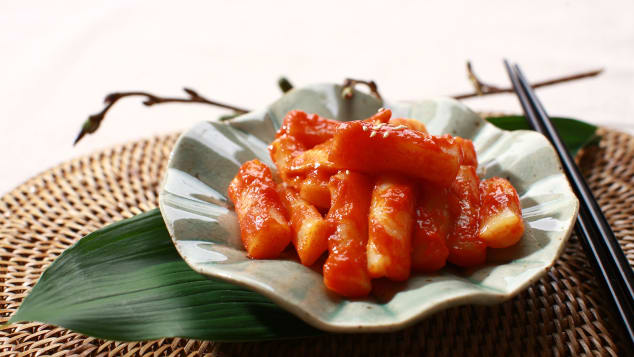 This iconic red-orange street food is so popular there's an entire part of Seoul just devoted to the steamed and sliced rice cakes (tteok), cooked with fish cakes (oden) and scallions in a sweet and spicy sauce made of chili paste.
Chefs have been known to put all sorts of things inside the sauce, from the black soybean paste to plain old ketchup. Call us masochists, but one thing is certain: the more pepper, the better.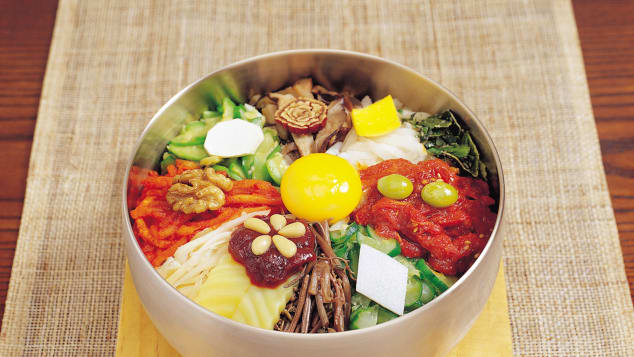 This Korean lunch-in-a-bowl mixes together a simple salad of rice, mixed vegetables, rice, beef, and egg, with sesame oil and a dollop of chili paste for seasoning.
Although Korean kings from yesteryear would probably be shocked at how the royal dish has become so ingrained into the palate of the masses, we love how cheaply and quickly we can devour our favorite lunch.
Gimbap (김밥)
The process of making
gimbap
resembles the Italian glasswork technique of millefiori, and indeed, the finished gimbap often looks too pretty too eat.
Sauteed vegetables, ground beef, sweet pickled radish, and rice, rolled and tightly wrapped in a sheet of laver seaweed (gim), and then sliced into bite-sized circles.
Doenjang (된장)
When people think Asian cuisine, they often think soy sauce. But soy sauce is actually a byproduct of this soybean product, a paste made from dried and fermented soybeans in a process too complicated to describe here.
This brown, textured paste is not the prettiest food in the world, and like Australian vegemite, the taste takes some getting used to. But once that taste is acquired, good luck trying to make do without it.
SAMGYETANG
This chicken and ginseng soup is packed with flavours from garlic to sweet rice. Samgyetang is a staple during the hot summer season when eating hot soup is believed to help your stamina and health. Koreans like to devour this soup on three particular days of the lunar calendar which are Chobok, Jungbok and Malbok.
Japchae (Glass noodles)
Arguably Korea's most popular noodle dish made with sweet potato noodles (The Korean chopsticks are unique – crafted with metal and Koreans also use a spoon along with the chopsticks for their soup; unlike other Asian cultures it is not considered polite to eat with the cup close to your mouth). Stir-fried in sesame oil with thinly sliced vegetables and meat.
READ MORE
https://newselectionz.com/10-essential-dishes-you-have-to-try-in-new-zealand.html