Among our Cambodia day tour programs today, we would like to introduce you to Cambodian food, especially delicious street foods. Let's join Newselectionz to uncover the hidden charms of Cambodian cultural life within featured street foods of people here. Here's our guide to the best street foods you must try in Cambodia.
WHAT TO EAT IN CAMBODIA: THE BEST CAMBODIAN FOOD
1. Fish Amok
Probably the most popular Cambodian food. This dish is composed of a rich and creamy curry like sauce that is the perfect balance of ginger, lemongrass, turmeric and coconut milk. When cooked correctly, the fish is silky smooth, almost melting in your mouth with each bite. This is usually served wrapped in a banana leaf and isn't too spicy.
2. Banana Blossom Salad
This salad can be found in restaurants all over Cambodia and is a refreshing meal that can be enjoyed any time of the day. The banana blossom is stirfried and is topped with garlic, fried shallots, and aromatics like lemongrass. The entire salad is then topped with lime adding a light yet citrusy taste to it.
3. Lap Khmer (Lime-marinated Khmer beef salad)
This dish is a take on ceviche as they take thin slices of beef which is marinated in lime juice with lots of shallots, garlic, fish sauce, basil, mint, and bell peppers. The whole thing is then topped with lots of chilies. To those that aren't too big on spice, be warned, this dish almost always comes with a kick! 
4. Kampot Pepper Crabs
If you head to the coastal town of Kep, you will usually find delicious pepper crabs caught fresh from the sea and cooked in little roadside restaurants. This peppery dish is hot, delicious, and very savory! Although it is popularly served in the seaside coastal towns, you can also find it being served in large cities like Phnom Penh and Siem Reap.
5. Red Tree Ants with Beef
Although it seems that this dish came straight from fear factor, it's not too bad. Essentially, it is a large stir fry using beef, basil, garlic, shallots, ginger, lemongrass, and lots of ants. Yes, you read correctly. Red tree ants of different sizes are mixed with the beef and are topped with chili and served on top of a bowl of white rice.
6. Bugs
How about a platter of spring rolls with chopped red ants with a fried giant water bug, tarantula and scorpion? All of this topped with a samosa containing chopped feta, spinach and tarantula…?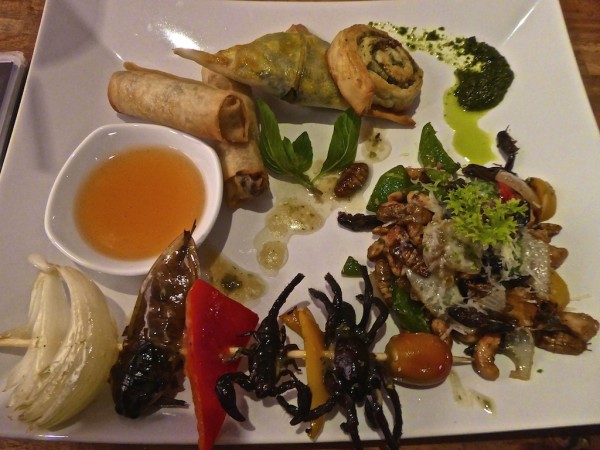 Ok, we're showing off now, but Cambodians make the most of what they have and cook this high protein, easy to maintain creatures for a crunchy and quite chewy meal.
7. Khmer curries
Cambodian curries are similar to Thai curries, both using coconut milk as a base with a subtle sweetness. However, the Khmer curries are not as spicy as the Thai, containing fewer quantities of chilies.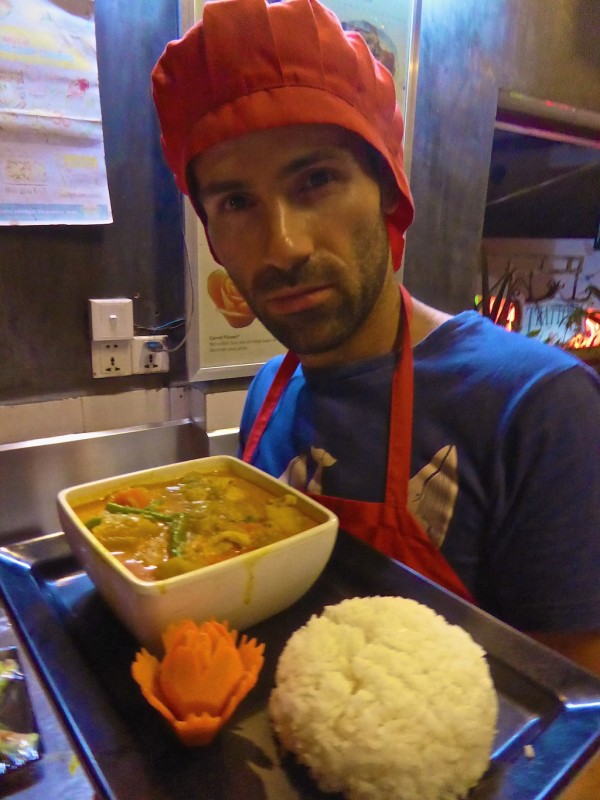 8. Chive cakes (num kachay)
Chive Cakes, also known as Num kachay, is originated in China. Put aside the heaps of heavy herbs and spices in a recipe of Chinese, Cambodians keep their Chive Cakes simple with just rice flour and chopped chives as primary ingredients. Garlic, sauce, baking soda, sugar, pepper are added, which help food taste better. Then, the cakes are fried on a hot shallow pan in a seriously generous amount of oil. They will be served up with a very sweet, spicy popular Southeast Asian fish sauce. This food is best eaten fresh off the hotplate. But please be careful or your mouth will be burn.